didobmw




Posts

: 190


Reputation

: 5


Join date

: 2013-10-16


Age

: 36


Country

: poland


Subject: SERWER KICK! Fri 04 Jan 2019, 18:51

---

Hello Gentlemen, Administrators.

Should not it be improved -You drive 100 races without one collision.
you are watching - when you go to the WC , Come back, you're kicked out of the server

and you get a -1% RT reward
Where is the logic here? I understand - a place on the server !
when you do nothing wrong you are punished 3 x as Crascher

Maybe it's worth making changes?
-1% RT for inactivity 7 miniut - crap
I know that there are drivers who do not care about this - me very much!
I greet all Dido
gemini 95
Server Supad/Forum Admin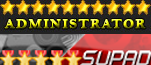 Posts

: 243


Reputation

: 19


Join date

: 2017-07-29


Country

: Finland


Subject: Re: SERWER KICK! Fri 04 Jan 2019, 18:59

---

Hello,

Currently it checks inactivity if there are 10 or more people on the server. Then the inactivity timer is set to 10mins. This helps to keep afk players away on rush hours.


We can discuss if the 10min is too short, but I wouldn't turn this feature off completely.
didobmw




Posts

: 190


Reputation

: 5


Join date

: 2013-10-16


Age

: 36


Country

: poland


Subject: Re: SERWER KICK! Fri 04 Jan 2019, 19:23

---

Everything is ok - it's understandable but the penalty -1% is a lot
Simon
Founder, Team owner, Server Supad/Forum Admin






Posts

: 1125


Reputation

: 31


Join date

: 2014-03-03


Age

: 39


Country

: uk


Subject: Re: SERWER KICK! Fri 04 Jan 2019, 23:26

---

didobmw wrote:

Hello Gentlemen, Administrators.

Should not it be improved -You drive 100 races without one collision.
you are watching - when you go to the WC , Come back, you're kicked out of the server

and you get a -1% RT reward
Where is the logic here? I understand - a place on the server !
when you do nothing wrong you are punished 3 x as Crascher

Maybe it's worth making changes?
-1% RT for inactivity 7 miniut - crap
I know that there are drivers who do not care about this - me very much!
I greet all Dido

Sounds like  it hit the fan 

 

I will see if I can remove the !rt drop.

_________________
Sponsored content

Subject: Re: SERWER KICK!

---